IN ADDITION TO MY BAND, STB (STACEY TURPENOFF BAND), I CAN OFTEN BE FOUND PERFORMING IN OTHER PROJECTS!
Eef & Stacey Duo- Eef, the tall-Dutch-girl-with-the-red-guitar, moved to the US in 1999 and currently lives in Denver CO. This dynamic duo, Eef and Stacey Turpenoff, play shows all over the front range of Colorado mostly in restaurants, patio's, and coffee houses. Their repertoire ranges from up-tempo blues to a little jazz, soul, and a touch of Americana.
THE TUFFENUFFS
"STACEY, DANNY HAYNES & CARLETON PIKE TRIO"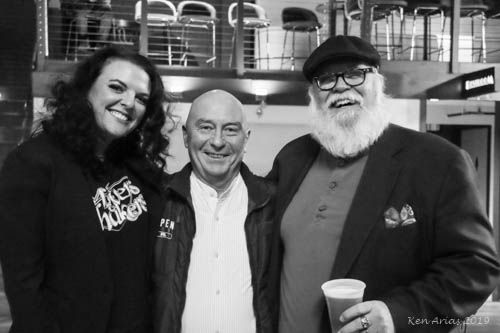 The combination of Stacey's beautiful vocals, Danny's skills on the keys, Carleton's perfection on drums, and this trio's flawless harmonies allow for their performances to operate in utter peace; every single soul who witnesses this trio are in awe and know that the bar has been set.
ONCE UPON A TIME, THE TUFFENUFFS Were A DUO.....
MISHAWAKA AMPHITHEATER REVIEW: 
Dancing and Grooving with Chris Daniels and The Kings, AJ Fullerton Band, and The Tuffenuffs 
JULY 6TH, 2018  
As the crowds began to roll in for the spectacular evening, Stacey Turpenoff and Danny Haynes took the stage as the Tuffenuffs. This iconic duo merged powerful vocals with masterful blues on the keys; Stacey's vocal range was bellowing when she sang in baritone and gut-wrenchingly beautiful when slaying the highest of soprano notes. It was simple elegance at its finest while being the perfect storm for a beautiful evening to come. 
The duo laid out the vibe for the rest of the night between their originals and their renditions of classic blues songs. After a scalding hot day, the clouds started to form to block the intensity of the sun, giving the crowd an enjoyable place to get to know their neighbor and their beverage. It's a good thing the Mishawaka doesn't serve beverages in glassware or else Stacey's vocals might have shattered the glass in the most authentic and graceful way possible.  
I had the pleasure of meeting both Danny and Stacey who were genuine staples in our society; their compassion for music, the appreciation of hospitality, and musical talent are all that the Mishawaka asks for from musicians. 
The combination of Stacey's beautiful vocals and Danny's skills on the keys allowed for the rest of the evening to operate in utter peace; every single soul who witnessed this duo was in awe and knew that the bar had been set for an amazing evening ahead. 
You may read the full review at: http://www.themishawaka.com/blog/2018/07/dancing-grooving-chris-daniels-kings/